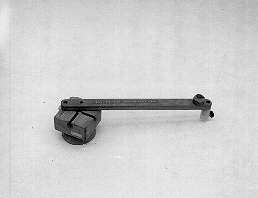 M9-01: ELLIPTICAL POLARIZATION - MECHANICAL MODEL
PURPOSE: To model elliptical or circular polarization.
DESCRIPTION: An executive toy has been modified with a long arm holding chalk at the end. Combination of horizontal and vertical harmonic oscillations out of phase by 90 degrees produces elliptical motion of the end of the arm. The rotator att aches to the blackboard by means of a suction cup.
SUGGESTIONS:
REFERENCES: (PIRA unknown.)
EQUIPMENT: Modified executive toy with chalk.
SETUP TIME: None.
---