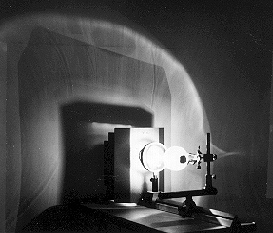 N1-45: RAINBOW - WATER FLASK
PURPOSE: To demonstrate a large angle rainbow.
DESCRIPTION: Light from a bright point source is focussed by a large-diameter 20 cm focal length convex lens onto a spherical water flask. The flask acts as a raindrop, producing a nearly 360 degree rainbow. The rainbow is bright enough that it can be seen throughout the entire lecture hall.
Both the primary rainbow and the secondary rainbow, with colors reversed, can be seen. Slight motion of the flask on the sliding carriage may be necessary for maximum brightness of the secondary rainbow.
SUGGESTIONS:
REFERENCES: (PIRA 6A46.10)
EQUIPMENT: Bright point source with light baffle, 20cm focal length convex lens, and spherical water flask on cross carriage on optical rail cart.
SETUP TIME: 10 min.
---