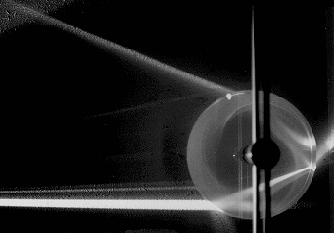 N1-44: OPTICAL BOARD - RAINBOW
PURPOSE: Demonstrate internal reflection and dispersion of light in formation of a rainbow.
DESCRIPTION: A single light ray is focused by a convex lens to limit its width. The ray enters a plastic disc, which models the water drop, is reflected internally and returns at an angle of about 40 degrees. The dispersion is apparent at a distance from the drop, so the light can be cast on a wall or a distant screen to see the colors.
SUGGESTIONS:
REFERENCES: (PIRA 6A46.30)
EQUIPMENT: Optical board with single ray baffle, convex lens, and plastic disc.
SETUP TIME: 5 min.
---