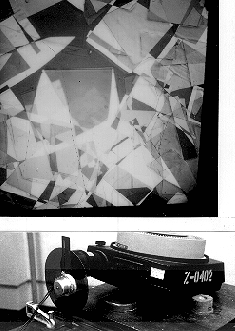 M8-12: POLARIZED COLOR SLIDE SET
PURPOSE: Fancy artistic demonstration of optical activity.
DESCRIPTION: Any slide containing birefringent material (such as cellophane, mylar, split iceland spar, ephidrine crystal, ammonium chloride, citric acid, and many others) can be used to show various shapes in beautiful blinking colors, even though it has no color at all when viewed in normal light. To achieve this effect, polarizing material is placed between the condensing lens of the projector and the birefringent material. Then a polarizing disc (analyzer) is rotated in front of the projection lens. (description from Edmund Scientific.)
SUGGESTIONS: This is neat to have on while your class is entering the room as an attention-getter.
REFERENCES: (PIRA unknown.)
EQUIPMENT: Polarized slide set in carousel with slide projector and rotating polaroid.
SETUP TIME: 5 min.
---