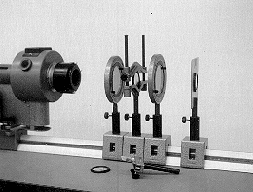 M8-11: OPTICAL ACTIVITY - ROSE AND BUTTERFLY
PURPOSE: Demonstration of classical optically active trinkets.
DESCRIPTION: Standard Cenco-Bracewell specimens of and optically active rose and butterfly are viewed between two rotatable polaroids. A lens after the second polaroid focuses the image of the optically active specimen onto a screen for visibility by the class.
SUGGESTIONS:
REFERENCES: (PIRA 6H35.53) See Demonstration Reference File and Meiners.
EQUIPMENT: Bright point source with condenser lens and iris, two rotatable polaroids, optically active specimen between polaroids, and 15cm focusing lens.
SETUP TIME: 5 min.
---