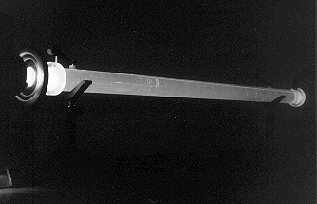 M8-06: SUGAR SOLUTION IN TUBE - BARBER POLE
PURPOSE: To demonstrate rotation of the plane of polarization of light.
DESCRIPTION: White light from a bright point source is polarized and propagated along a tube containing a sugar solution somewhat less dense than Karo syrup. The color seen by observers in the horizontal plane changes much like a barber pole effect. Because more of the blue light is scattered out of the tank, the color gets more redish toward the far end of the tube.
SUGGESTIONS:
REFERENCES: (PIRA 6H30.30)
EQUIPMENT: Bright point source with condenser lens and iris, polarizer, and long tube of sugar solution.
SETUP TIME: 5 min.
---