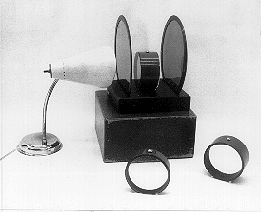 M8-03: OPTICAL ACTIVITY IN KARO SYRUP CYLINDERS
PURPOSE: To demonstrate optical activity and rotation of the plane of polarization.
DESCRIPTION: Place the three karo syrup cylinders between the polaroids so that two or three thicknesses of Karo syrup are produced. Rotation of the front polaroid leads to different combinations of saturated negative colors, showing that the rotation of the plane of polarization depends on wavelength.
SUGGESTIONS:
REFERENCES: (PIRA 6H30.40) See Demonstration M8-05: POLAROIDS AND KARO SYRUP - SPECTRUM.
EQUIPMENT: Goose neck lamp with 100 watt bulb, rotating polaroids an base, two thin and one thick plastic cylinders of Karo syrup.
SETUP TIME: None.
---