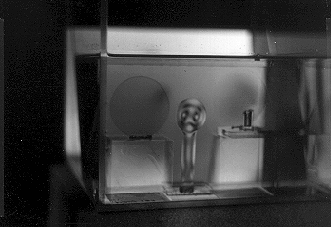 M8-02: OPTICAL ACTIVITY - GLASS IN KARO SYRUP TANK
PURPOSE: Exotic demonstration of optical activity.
DESCRIPTION: A trapezoidal tank, lit from behind by polarized light from a rotating polarizer, contains various examples of optically active materials, including stressed glass. As the rear polaroid rotates a fixed polaroid on the front of the tank makes the patterns visible.
This is a wonderful hallway demonstration.
SUGGESTIONS: Try not to disturb the various parts so that things fall over, etc. The Karo syrup gets pretty groty after a few years, and we don't want to have to go in there to fix it.
REFERENCES: (PIRA unknown.) This demonstration was shamelessly copied from a hallway demonstration at the University of Minnesota.
EQUIPMENT: Karo syrup tank with stressed glass artifacts, rotating polarizing sheet.
SETUP TIME: 5 min.
---