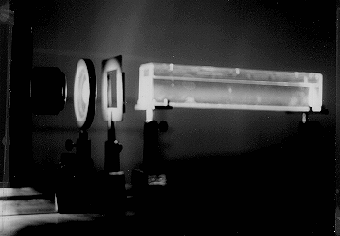 M8-04: OPTICAL ACTIVITY IN KARO SYRUP TANK
PURPOSE: To show rotation of the plane of polarization of white light in a uniform tank of Karo syrup.
DESCRIPTION: Polarized white light enters the end of the tank of Karo syrup. The light which is scattered out in the horizontal plane so that we can see it, as in the photograph, shows a series of subtractive colors, indicating that some spectral color - the one scattered vertically - is missing. Viewed from the top, one sees a somewhat different sequence of colors which are complementary colors to those viewed in the horizontal plane. This demonstrates that the plane of polarization of the light is rotated by an amount which is dependent on wavelength.
SUGGESTIONS:
REFERENCES: (PIRA 6H30.30)
EQUIPMENT: Point source with condenser lens and iris, polarizer, and long Karo syrup tank; color filters optional.
SETUP TIME: 5 min.
---