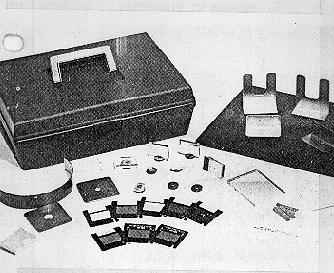 M1-31: PORTABLE LASER DIFFRACTION KIT
PURPOSE: Take laser diffraction on the road.
DESCRIPTION: Over 25 experiments can be carried out using the materials in this Metrologic Instruments Laser Diffraction Kit, including beam characteristics, polarization, reflection, refraction, interference, diffraction, index of refraction, Michelson interferometer, holography, and many more!
SUGGESTIONS:
REFERENCES: (PIRA unknown.) See Demonstration Reference File for complete information.
EQUIPMENT: Metrologic Laser Diffraction Kit with Laser.
SETUP TIME: Say what?
---