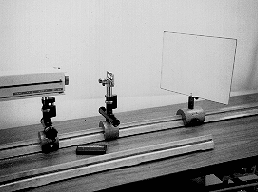 M1-22: LASER DIFFRACTION - GRATINGS
PURPOSE: To demonstrate diffraction (well, actually interference) by a grating.
DESCRIPTION: Several different gratings can be readily mounted into the laser beam to study the effect of grating spacing: (1) 570 slits per mm, (2) 15,000 slits per inch, and (3) a triple grating with 2400 slits per inch, 2500 slits per inch, and 13,400 slits per inch.
SUGGESTIONS:
REFERENCES: (PIRA 6D20.15)
EQUIPMENT: Laser cart with slide-mounted gratings.
SETUP TIME: None.
---