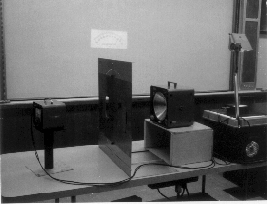 M1-15: MICROWAVES - YOUNG'S DOUBLE SLIT INTERFERENCE
PURPOSE: To illustrate two-slit interference using microwaves.
DESCRIPTION: Microwaves from the source at the right pass through a pair of slits and interfere in the region to the left of the slits. The interference pattern is picked up by a microwave receiver and displayed for the class using the overhead projector microammeter.
SUGGESTIONS: An effective technique to create discussion is to initially place the receiver at a nodal line for the two-slit interference pattern. The intensity increases when either slit is closed!
REFERENCES: (PIRA 6D10.20)
EQUIPMENT: microwave transmitter, double slit, microwave receiver with overhead projector meter.
SETUP TIME: 5 min.
---