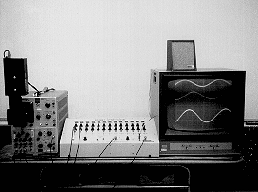 M1-16: INTERFERENCE OF LIGHT - SOUND WAVE MODEL
PURPOSE: Shows explicitly how two waves with the same amplitude and frequency will interfere when their relative phase changes.
DESCRIPTION: The University of Maryland 12-channel Fourier synthesizer is used with two fundamental frequencies (N=1) and their sum displayed on the oscilloscope. As the phase of either signal is changed the two components go in and out of phase and the sum wave changes amplitude.
SUGGESTIONS:
REFERENCES: (PIRA unknown.)
EQUIPMENT: Fourier synthesizer with four-trace oscilloscope on scope/TV cart.
SETUP TIME: 5 min.
---