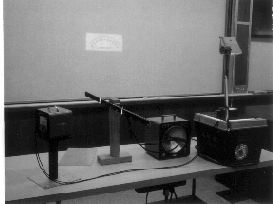 M1-14: MICROWAVES - INTERFERENCE OF TWO POINT SOURCES.
PURPOSE: To demonstrate interference using microwaves.
DESCRIPTION: Two identical transmitting antennas for microwaves (shiny strips mounted on meter stick) are driven by the same source, creating two coherent sources. Scanning the region in front of the two sources reveals an interference pattern, which can be seen by a class using a projection meter connected to the microwave receiver.
SUGGESTIONS:
REFERENCES: (PIRA 6D10.20)
EQUIPMENT: Microwave source with two transmitting antennas, microwave receiver with overhead projector meter.
SETUP TIME: 5 min.
---