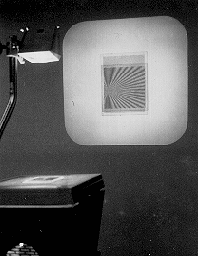 M1-13: INTERFERENCE - KLINGER TRANSPARENT SLIDES
PURPOSE: To model interference between two point sources.
DESCRIPTION: Two slides of identical concentric equally-spaced circles are superimposed on an overhead projector to create an effect analogous to interference between two identical monochromatic light sources. Spacing between the sources can be varied to simulate variation in slit spacing.
SUGGESTIONS:
REFERENCES: (PIRA 3B50.40)
EQUIPMENT: Klinger transparent slides on overhead projector.
SETUP TIME: None.
---