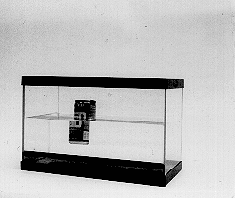 L4-04: REFRACTION - CAN IN WATER TANK
PURPOSE: To illustrate refraction.
DESCRIPTION: The can floats halfway into a water bath. Viewed at an angle, the can appears discontinuous at the water surface.
SUGGESTIONS:
REFERENCES: (PIRA 6A42.45)
EQUIPMENT: Weighted cola can floating in water bath in fish tank.
SETUP TIME: 5 min.
---