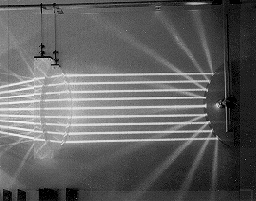 L3-01: OPTICAL BOARD - CONVEX SPHERICAL MIRROR
PURPOSE: To show reflection of light rays from a convex mirror.
DESCRIPTION: Parallel rays incident on a spherical mirror appear to diverge from the focal point of the mirror as the apparent source. Use adjacent concave and convex lenses to obtain parallel rays. Choice of baffle and distance of baffle from source determine the number of rays and their spacing.
SUGGESTIONS:
REFERENCES: (PIRA 6A20.10)
EQUIPMENT: Optical board with convex mirror and accessory lenses.
SETUP TIME: None.
---