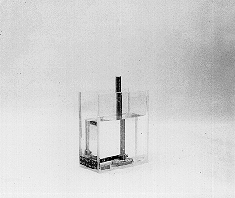 L4-03: REFRACTION - ROD IN WATER
PURPOSE: To demonstrate refraction.
DESCRIPTION: The rod, inserted into the water tank and viewed from an angle, shows a discontinuity at the surface of the water. Insert the other end of the rod at an angle into the water; the rod looks bent when viewed at an angle.
SUGGESTIONS:
REFERENCES: (PIRA 6A42.45)
EQUIPMENT: Plastic water tank with mounted stick.
SETUP TIME: None.
---