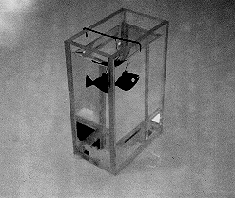 L4-05: REFRACTION IN FISH TANK - PORTABLE
PURPOSE: To illustrate refraction.
DESCRIPTION: Due to refraction, the single fish hanging in the corner of the tank, appears to be one, two, or three fish (as in the photograph), depending on the surface(s) through which it is viewed.
SUGGESTIONS:
REFERENCES: (PIRA unknown.)
EQUIPMENT: Model of fish in plastic water tank.
SETUP TIME: 5 min.
---