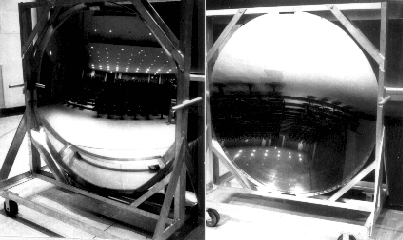 L3-31: GIANT MIRROR - CONCAVE AND CONVEX
PURPOSE: Dramatic demonstration of images of concave and convex mirrors.
DESCRIPTION: This five-foot diameter 52-inch radius of curvature parabolic mirror was originally used as a solar collector on a satellite. Both convex and concave sides can be used with large classes or individually. In addition to simply using this large mirror to view images, several other demonstrations using a concave mirror can be done in large versions.
SUGGESTIONS:
REFERENCES: (PIRA unknown.)
EQUIPMENT: Giant mirror, as photographed.
SETUP TIME: None.
---