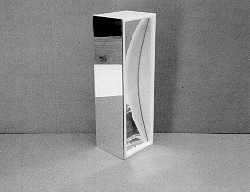 L3-32: CYLINDRICAL MIRROR DEMONSTRATOR
PURPOSE: Demonstration of cylindrical concave and convex mirrors.
DESCRIPTION: This gizmo contains concave and convex cylindrical mirrors as well as a plane mirror. Hold it up and look at the images. Sort of like a mirror fun house, isn't it?
SUGGESTIONS:
REFERENCES: (PIRA unknown.)
EQUIPMENT: Cylindrical mirror demonstrator.
SETUP TIME: None.
---