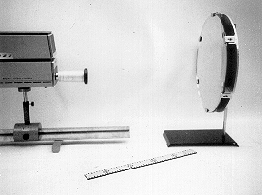 L3-25: IMAGE LOCATION WITH TV CAMERA - CONCAVE MIRROR
PURPOSE: To locate the image position for a concave mirror.
DESCRIPTION: Focus the TV camera on the image of its lens created by the concave mirror. Move the ruler toward the mirror until it is in focus, demonstrating that the image is at that point.
SUGGESTIONS:
REFERENCES: (PIRA unknown.)
EQUIPMENT: TV camera with zoom lens and monitor (projector in lecture halls), large concave mirror, ruler.
SETUP TIME: 5 min.
---