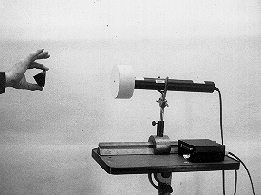 L2-44: CORNER REFLECTOR - HAND HELD
PURPOSE: To demonstrate dramatically how a corner reflector works.
DESCRIPTION: The laser is mounted on a stand with the beam coming out a hole in the white baffle, and aimed across the room or to the rear of the lecture hall. Hold the corner reflector in the beam and the reflected beam will return to be easily seen on the white card. Rotate the corner reflector and change its angle, showing that the beam still returns to the card. The specular reflection of the laser beam off the front surface of the glass will also be seen moving around the room.
SUGGESTIONS:
REFERENCES: (PIRA unknown.)
EQUIPMENT: Laser with baffle, hand-held corner reflector.
SETUP TIME: 5 min.
---