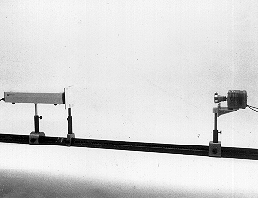 L2-43: CORNER REFLECTOR - ROTATING
PURPOSE: To show that the reflected ray from a corner reflector is parallel to the incoming ray.
DESCRIPTION: A corner reflector mounted on a rotator is positioned in a laser beam. As the corner reflector rotates the beam moves around on the white screen through which the beam from the laser emerged.
SUGGESTIONS:
REFERENCES: (PIRA unknown.)
EQUIPMENT: Laser with white screen and corner reflector mounted on rotator.
SETUP TIME: 5 min.
---