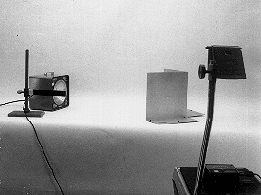 L2-45: MICROWAVES - CORNER REFLECTOR
PURPOSE: A two-dimensional microwave corner reflector.
DESCRIPTION: The corner reflector reflects the microwaves back to their point of origin, as does a two-dimensional optical corner reflector.
SUGGESTIONS:
REFERENCES: (PIRA unknown.) See Demonstration L2-41: OPTICAL BOARD - CORNER REFLECTOR.
EQUIPMENT: Microwave transmitter and receiver with overhead projector galvenometer, two aluminum plates.
SETUP TIME: 5 min.
---