K7-43: RELAXATION OSCILLATOR - NEON LAMP
PURPOSE: To demonstrate a pulse circuit with different pulse rates.
DESCRIPTION: A series RC circuit is used to control how fast the voltage builds up across a neon lamp, causing it to discharge. Substitute resistors and capacitor can be inserted into the clip-board circuit to change the flash rate.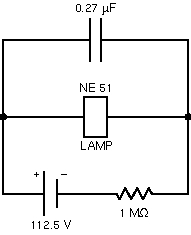 SUGGESTIONS:
REFERENCES: (PIRA unknown.)
EQUIPMENT: Flasher circuit plus 1 microfarad capacitor and 0.5 and 5.0 megohm resistors.
SETUP TIME: None.
---