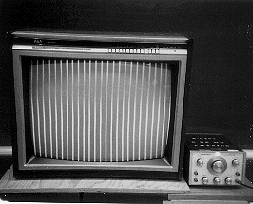 K6-61: TV MONITOR WITH OSCILLATOR
PURPOSE: Convert a temporal frequency to a spatial frequency and illustrate how the bandwidth effects the horizontal resolution of the TV monitor.
DESCRIPTION: The audio oscillator feeds into the video input of the TV monitor. The signal can be "seen and heard." Audible frequencies produce horizontal lines. To produce vertical lines much higher frequencies are required. Various wave shapes can be tried as well as changes in frequency.
SUGGESTIONS:
REFERENCES: (PIRA unavailable.)
EQUIPMENT: TV monitor with oscillator.
SETUP TIME: 5 min.
---