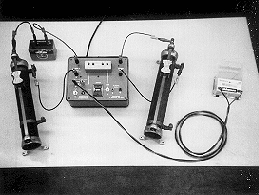 K6-52: IMPEDANCE MATCHING - BATTERY AND JOULEMETER
PURPOSE: To demonstrate that the power transmission is maximized when the source impedance and the load impedance are equal.
DESCRIPTION: A DC power supply consists of a battery with a variable series resistor (at the left), which is set to about 70 ohms. Adjust the load resistor (at the right) until the power to the load resistor is maximized, as read by a joule met er (the box with all the connections in the center of the picture). The resistance of the load will be 70 ohms. The slave projection meter at the right in the picture displays the power for the class as the load resistance is tuned.
This demonstration has been used as an introduction to impedance matching between the power amplifier and loudspeakers of an audio system.
SUGGESTIONS:
REFERENCES: (PIRA unknown.)
EQUIPMENT: Joule meter with projection slave meter, two 370 ohm variable resistors, and 22.5 volt battery.
SETUP TIME: 5 min.
---