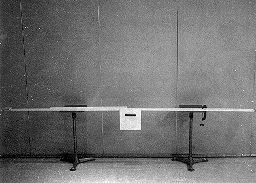 K6-21: HEATING IN CURRENT-CARRYING WIRE
PURPOSE: To show the conversion of electrical energy into heat.
DESCRIPTION: Push to attach 110 VAC to wire, heating the wire and causing it to become longer and sag. The marker hanging in the center of the wire indicates the sag.
SUGGESTIONS:
REFERENCES: (PIRA 4A30.60)
EQUIPMENT: Sagging wire apparatus.
SETUP TIME: None.
---