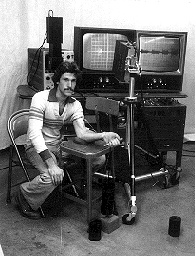 K5-15: CURRENT IN BICEPS MUSCLE
PURPOSE: To demonstrate that electrical currents are used in the operation of muscles.
DESCRIPTION: Attach electrodes to the subject's arm at appropriate places as described in the instructions. Have the subject lift various weights (curls) about two inches off the ground to see the electrical impulses. Relaxation produces null in current.
SUGGESTIONS:
REFERENCES: (PIRA unknown.) See Demonstration Reference File for instruction sheets for this demonstration equipment and for background articles describing electricity in the body.
EQUIPMENT: Electrode kit, TV camera with monitor for wave recorder, oscilloscope with microphone (low level) input with scope/TV cart.
SETUP TIME: 15 min.
---