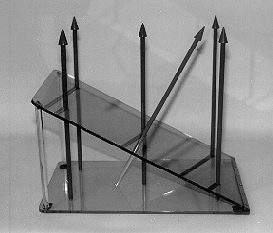 K5-16: CARRIER CURRENT DENSITY MODEL
PURPOSE: To model the density of carriers crossing a plane.
DESCRIPTION: Red vectors represent electron flow, blue plate is surface of interest with its vector area represented by the blue arrow. Then:
dQ/dt = j . dA = j dA cos a = j dA(proj),
with j = n q v(drift).
SUGGESTIONS:
REFERENCES: (PIRA unknown.)
EQUIPMENT: Model.
SETUP TIME: None.
---