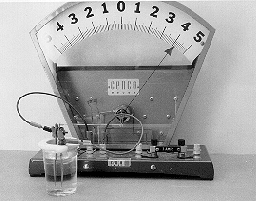 K5-14: ELECTRIC CELL
PURPOSE: To demonstrate how an electric cell is formed.
DESCRIPTION: A container is filled with a dilute solution of HCl, and various pairs of electrodes can be inserted into the electrolyte solution. The voltage is measured using the lecture meter. A standard electrode pair is copper and zinc.
SUGGESTIONS:
REFERENCES: (PIRA unknown.)
EQUIPMENT: Electric cell kit with sample materials, projection voltmeter.
SETUP TIME: 5 min.
---