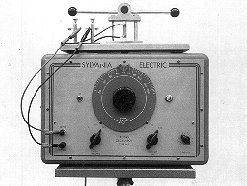 K5-02: PIEZOELECTRIC CRYSTAL - AUDIBLE
PURPOSE: To demonstrate that a piezoelectric crystal converts electrical impulses into physical vibrations.
DESCRIPTION: An electrical oscillation is converted into a mechanical vibration by a piezoelectric crystal. An audio frequency electrical oscillation from an audio oscillator is converted into a sound vibration by the piezoelectric crystal. This is the most often-used technique for creating ultrasound.
SUGGESTIONS:
REFERENCES: (PIRA 5E60.40)
EQUIPMENT: Piezoelectric crystal with 100 volt audio oscillator.
SETUP TIME: None.
---