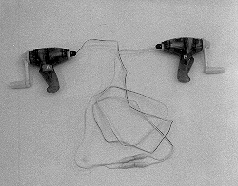 K4-41: MOTOR-GENERATOR PAIR
PURPOSE: To demonstrate that a motor and a generator are the same.
DESCRIPTION: A pair of identical motor-generators are connected together. Cranking either one as a generator makes the other one rotate as a motor. Reversing the direction of cranking the generator reverses the direction of the motor.
SUGGESTIONS:
REFERENCES: (PIRA 5K40.40)
EQUIPMENT: Two Genecon motor-generators.
SETUP TIME: None.
---