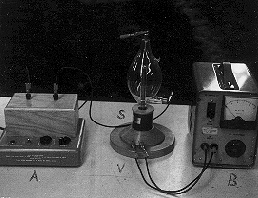 K1-13: CATHODE RAY TUBE - DE LA RIVE MAGNETIC EFFECT
PURPOSE: To illustrate bending of an electron beam in a magnetic field.
DESCRIPTION: An electron discharge originates at the bottom of the tube and spirals upward around a magnetic iron core.
SUGGESTIONS:
REFERENCES: (PIRA 5H30.30)
EQUIPMENT: De la Rive tube with induction coil, power supply for magnet.
SETUP TIME: None.
---