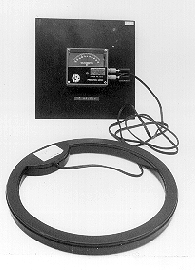 K2-01: EARTH INDUCTOR
PURPOSE: To induce an EMF by moving a coil through the earth's magnetic field.
DESCRIPTION: Motion of the coil through the magnetic field of the earth induces and EMF which is indicated on the projection galvenometer. Alignment of the coil relative to the earth's magnetic field lines can be found which produces a maximum deflection of the coil or almost no deflection.
SUGGESTIONS:
REFERENCES: (PIRA 5K10.60)
EQUIPMENT: Earth coil (TV tube degaussing coil), projection meter.
SETUP TIME: None.
---