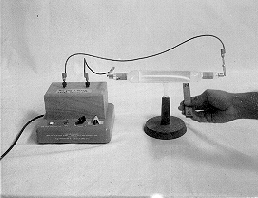 K1-12: CATHODE RAY TUBE - DEFLECTION BY MAGNET
PURPOSE: To demonstrate visually the force on an electron beam by a magnetic field.
DESCRIPTION: A cathode ray tube produces a beam of electrons which can be seen as it hits a phosphorescent surface inside the tube. Holding a magnet close to the CRT parallel to the table so that it produces a horizontal magnetic field inside the tube causes the electron beam to deflect up or down. The vector nature of the force can be studied by reversing the magnet.
SUGGESTIONS:
REFERENCES: (PIRA 5H30.15)
EQUIPMENT: Cathode ray tube with power supply and weak bar magnet.
SETUP TIME: None.
---