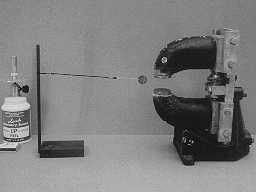 J7-13: CURIE POINT OF NICKEL
PURPOSE: To show the Curie point of nickel.
DESCRIPTION: A Canadian nickel has the ferromagnetic element nickel as a major part of its composition, and is strongly attracted to a magnet, as shown in the photograph. When heated above its Curie temperature by the gas torch, it loses its ferromagnetism and falls away from the magnet to the table.
SUGGESTIONS:
REFERENCES: (PIRA 5G50.15)
EQUIPMENT: Canadian nickel on wire with stand, large permanent magnet.
SETUP TIME: None.
---