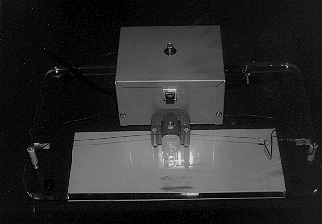 J7-12: CURIE POINT OF IRON
PURPOSE: To show the Curie point of iron.
DESCRIPTION: An iron wire is normally ferromagnetic, and therefore strongly attracted to the magnet as shown in the photograph. When heated so that it glows red hot by passing an electric current through it, the iron rises above its Curie point and loses its ferromagnetism, so springs at either end of the wire pull it away from the magnet.
SUGGESTIONS:
REFERENCES: (PIRA 5G50.10) See Demonstration Reference File for a number of interesting articles.
EQUIPMENT: Pre-assembled Curie point of iron demonstrator.
SETUP TIME: None.
---