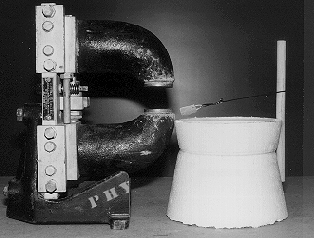 J7-14: CURIE POINT OF DYSPROSIUM
PURPOSE: To show the Curie point of dysprosium, a normally non-magnetic material.
DESCRIPTION: Dysprosium is non-magnetic at room temperature. When a dysprosium sample is cooled to the temperature of liquid nitrogen, it passes through its Curie point, becoming ferromagnetic. The dysprosium sample in the photograph has been cooled in liquid nitrogen and is strongly attracted to the magnet. As it warms, it passes the Curie point, becoming non-magnetic and falling into the liquid nitrogen bath, which cools it so that it becomes magnetic and is attracted to the magnet, where i t warms up, etc....
SUGGESTIONS:
REFERENCES: (PIRA 5G50.25)
EQUIPMENT: Dysprosium sample on cord with stand mounted on styrofoam bucket of liquid nitrogen, magnet.
SETUP TIME: 5 min.
---