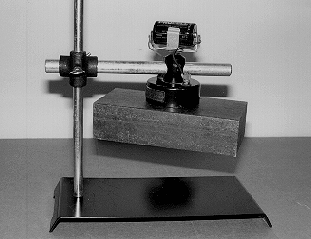 J6-01: ELECTROMAGNET WITH BANG
PURPOSE: To illustrate the force which can be exerted by a small electromagnet.
DESCRIPTION: An electromagnet operated by a single flashlight battery holds up an iron brick as in the photograph. Remove battery to allow brick to fall, awakening your students.
SUGGESTIONS:
REFERENCES: (PIRA unknown.)
EQUIPMENT: Electromagnet with D-cell on stand with iron brick.
SETUP TIME: 5 min.
---