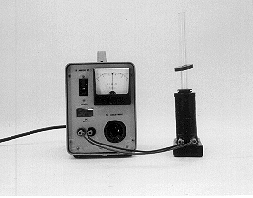 J5-32: MAGNETIC LEVITATION - PERMANENT MAGNET AND ELECTROMAGNET
PURPOSE: To demonstrate magnetic levitation.
DESCRIPTION: A ring magnet levitates above an electromagnet, held in place horizontally by a plastic tube. Turn the power supply on and off for controlled levitation.
SUGGESTIONS:
REFERENCES: (PIRA 5H20.20)
EQUIPMENT: Power supply, electromagnet and permanent ring magnet.
SETUP TIME: None.
---