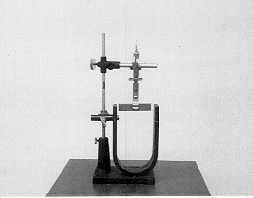 J5-33: TORQUE ON A BAR MAGNET
PURPOSE: To demonstrate the torque on a bar magnet in a magnetic field.
DESCRIPTION: A small bar magnet is suspended on a rotating pivot between the poles of a horseshoe magnet. If the bar magnet is turned and released it rotates back to its original position due to the torque applied by the magnetic field of the horseshoe magnet.
SUGGESTIONS:
REFERENCES: (PIRA unknown.)
EQUIPMENT: Mounted horseshoe magnet with suspended bar magnet as photographed.
SETUP TIME: None.
---