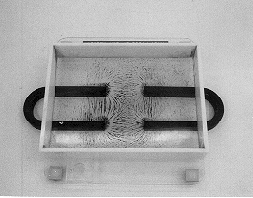 J5-31: QUADRUPOLE MAGNETIC FILED
PURPOSE: To visualize the magnetic field of a quadrupole magnet.
DESCRIPTION: Two large horseshoe magnets are arranged with their poles N to S and S to N, forming a "quadrupole." Quadrupole magnets are used in focusing of charged particle beams, where the beam moves through the field perpendicular to the pla ne of the magnets. A single quadrupole focuses in one direction and defocuses in the other direction, so quadrupole magnets are generally used in pairs as beam focusing magnets.
SUGGESTIONS:
REFERENCES: (PIRA unknown.)
EQUIPMENT: Two horseshoe magnets with plastic box for iron filings, overhead projector.
SETUP TIME: None.
---