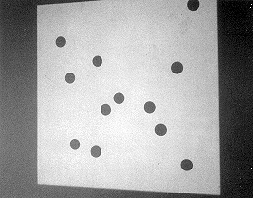 I6-32: MOLECULAR MOTION DEMO - RANDOM MOTION IN GASES
PURPOSE: To model random molecular motion.
DESCRIPTION: A set of small balls of the same mass models the air. Random motion of any ball can be observed. The average speed of "molecules" of different masses can be compared.
SUGGESTIONS:
REFERENCES: (PIRA 4D30.00) See Demonstration Reference File for manual.
EQUIPMENT: Molecular Motion Demonstrator as pictured.
SETUP TIME: None.
---