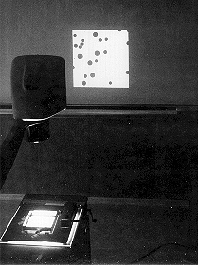 I6-31: MOLECULAR MOTION DEMO - BROWNIAN MOTION
PURPOSE: To model Brownian motion.
DESCRIPTION: A set of small balls of varying mass models the air. The balls are set into motion by vibration of the walls. A large mass models a smoke particle which is moved about randomly by collisions with the smaller air molecules. The device must be tilted so that the balls will not stop moving.
SUGGESTIONS:
REFERENCES: (PIRA 4D30.00) See Demonstration Reference File for manual.
EQUIPMENT: E.M.E. Molecular Motion Demonstrator with accessories as pictured.
SETUP TIME: None.
---