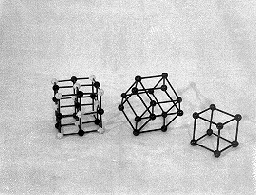 I7-01: CRYSTAL MODELS - SET OF 3
PURPOSE: Set of three simple crystal models.
DESCRIPTION: The following crystals are modeled here, from left to right: (1) face-centered cubic, such as common salt, where sodium is black and chlorine is white, (2) an apparently indeterminate structure, which can nevertheless be studied for its symmetries, (3) simple cubic.
SUGGESTIONS:
REFERENCES: (PIRA 1R50.20)
EQUIPMENT: Three crystal models.
SETUP TIME: None.
---