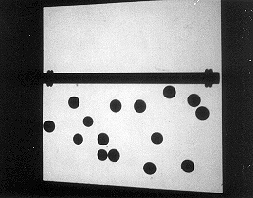 I6-33: MOLECULAR MOTION DEMO - GAS PRESSURE
PURPOSE: To model gas pressure.
DESCRIPTION: A set of about 20 steel balls of varying mass models the air. A bar is positioned in the center of the device so that it will be continuously struck by the moving balls. The balls are set into motion by vibration of the walls with the device tilted. Collisions of the balls with the bar push the bar upward to model the force of a gas on a surface.
SUGGESTIONS:
REFERENCES: (PIRA 4D30.00) See Demonstration Reference File for manual.
EQUIPMENT: E.M.E. Molecular Motion Demonstrator with accessories as pictured.
SETUP TIME: None.
---