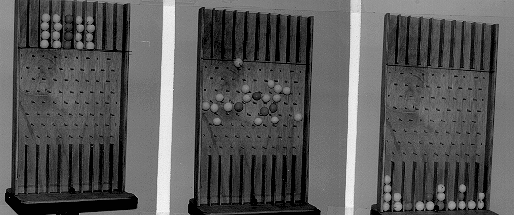 I6-25: DIFFUSION - DISTRIBUTION OF PING PONG BALLS
PURPOSE: Demonstrate on a macroscopic scale using ping pong balls how random molecular motion causes substances to diffuse.
DESCRIPTION: This gizmo consists of a wooden frame with three panel plexiglass cover about one ping pong ball in width, ten bins at the top and bottom for setting up initial and analyzing final distributions, with several rows of removable pegs in between. When the horizontal plexiglass sheet holding the balls at the top is pulled away, balls will drop through the peg array, become randomly scattered, and drop into bins at the bottom. Put four orange balls into bin 5 and four white balls into each of bins 3, 4, 6, and 7. When the balls reach the bottom, the four orange balls will have become distributed into the white balls.
SUGGESTIONS: This is a good companion demonstration to I6-23: DIFFUSION - INK IN WATER.
REFERENCES: (PIRA unavailable.) See Demonstration Reference File for background reference material.
EQUIPMENT: Diffusion demonstraator with ping pong balls.
SETUP TIME: None.
---