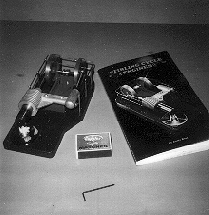 I5-32: STIRLING ENGINE
PURPOSE: To demonstrate a Stirling engine.
DESCRIPTION: Heating the heat sink on the engine starts the flywheel rotating. It may take a minute or so, and need a bit of a push.
SUGGESTIONS:
REFERENCES: (PIRA 4F30.10) See Demonstration Reference File for nice instruction and background manuals. See also Demonstration I5-34: STIRLING ENGINE - VISIBLE. Try Stirling Engines on the Internet
EQUIPMENT: Stirling engine, gas burner, engine accessories.
SETUP TIME: 5 min.
---